Christmas Light Shopping Guide
Shopping for Christmas lights used to be easy. The choices were largely limited to mini lights or C9s in clear or multi-color. Now decorators can choose from several bulbs shapes in every color of the rainbow. For some people the variety of Christmas lights we offer can be a bit overwhelming. If you are new to our store or uncertain about the type of lights that will be best for your application, please take a look at our shopping guide to get started. In this guide we described all of the different types of LED Christmas lights we offer and the most common applications for each type.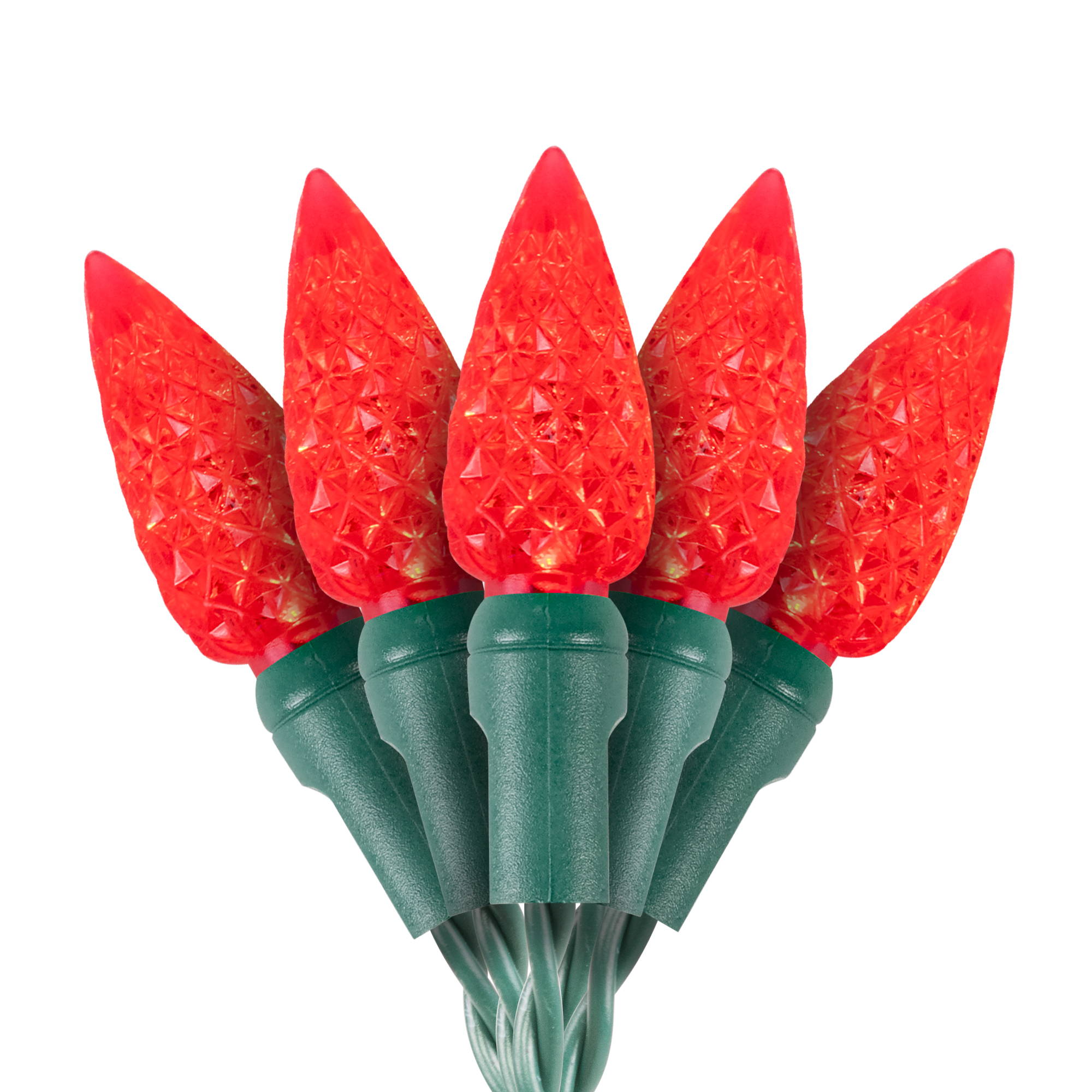 C6 Lights
The C6 strawberry light is a much smaller version of the larger traditional C9 Christmas light. While much smaller than a C9 or C7 size Christmas light and consuming 99% less energy, the C6 strawberry light is quite bright and will not disappoint. The decorative, faceted lens does a good job of softening and diffusing the LED light for an attractive glowing appearance. These features make the C6 a great choice for indoor displays, entryway displays or other locations where the observers will be in close physical proximity to the display. The decorative lens also make the lights a great choice for applications where the bulb will be highly visible. The C6 is approximately 1" in length and ½" at its widest point at the base.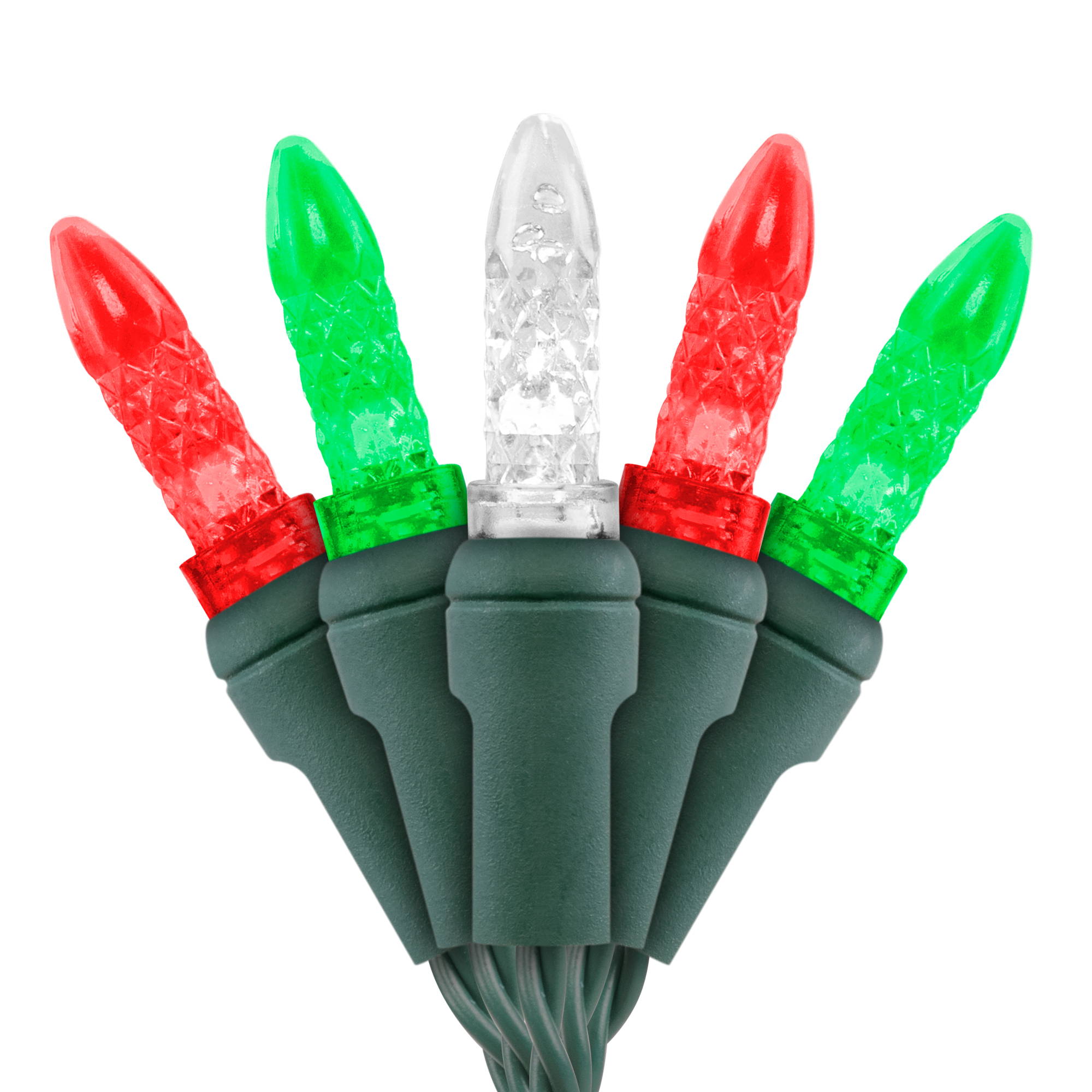 Mini Lights
The Christmas mini light is the most traditional of all the Christmas light bulb styles. The bulb style is attractive because it is small and brilliant, and it works well with LED lights as it diffuses the highly directional LED light very efficiently. Perhaps more importantly, the LED mini light emulates the style of the most traditional Christmas style light. Ours feature a durable epoxy plastic lens which is nearly indestructible. The clear lens is faceted to help evenly diffuse the brilliant LED light, and is approximately 3/4" in length and 1/8" in diameter. This is a perfect choice if you are looking for an energy efficient replacement for your traditional incandescent mini lights. LED mini lights are great as Christmas tree lights, and for wrapping outdoor trees, railings and other decorative applications where a smaller and brilliant light is desired. Our 5MM wide-angle LED lights are also a great choice for those looking for a small but brilliant bulb.

5MM Wide Angle
Our wide angle bulb is the brightest, most focused of our LED string lights. Though small in size (and also called "rice lights"), the 5mm bulb evenly distributes LED light in all directions. The style produces the most consistent light output, which is not affected by the angle from which the light is observed. Recommended for indoor and outdoor displays for Christmas trees, wrapping trees, or other applications where bright, even light distribution is important. This shape bulb is approximately the size of an eraser head on a pencil and is a great alternative to traditional mini Christmas lights.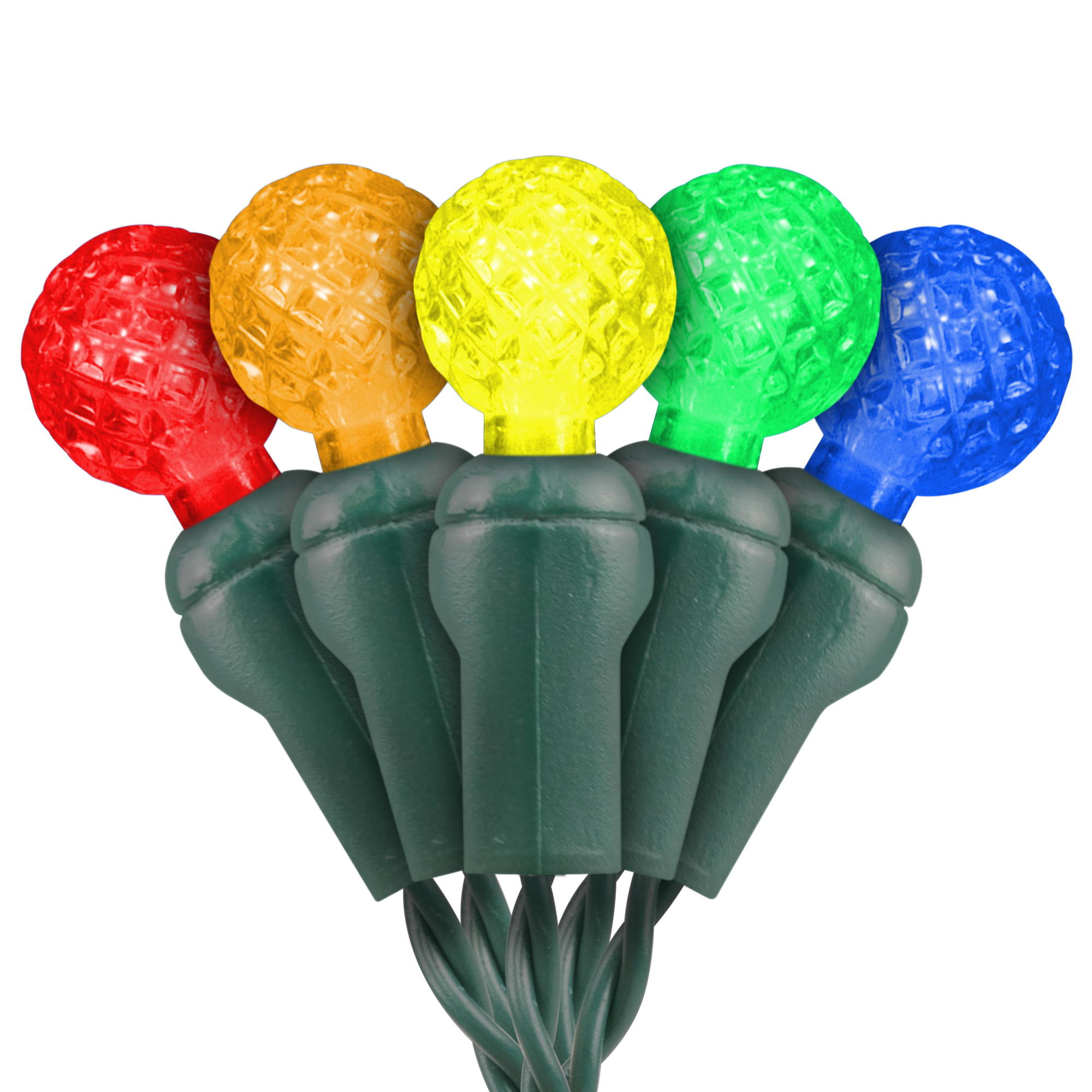 G12 Raspberry
The G12 raspberry Christmas light is a small, faceted, globe-shaped bulb that is similar in size to a small raspberry. It is approximately ½" long and ½" in diameter. The light produced by the G12 is only slightly more diffuse than the light output of our Christmas mini lights. The slightly larger, rounded bulb softens the impact of the light only slightly while enhancing and completing the light output distribution. Our G12 raspberry light is a good choice for indoor or outdoor displays that will be viewed at close distances by observers and where a well-balanced, bright, and diffuse light source is desired. We recommend the G12 for entryway bushes or shrubs, large wreaths, Christmas trees or wrapping small outdoor trees.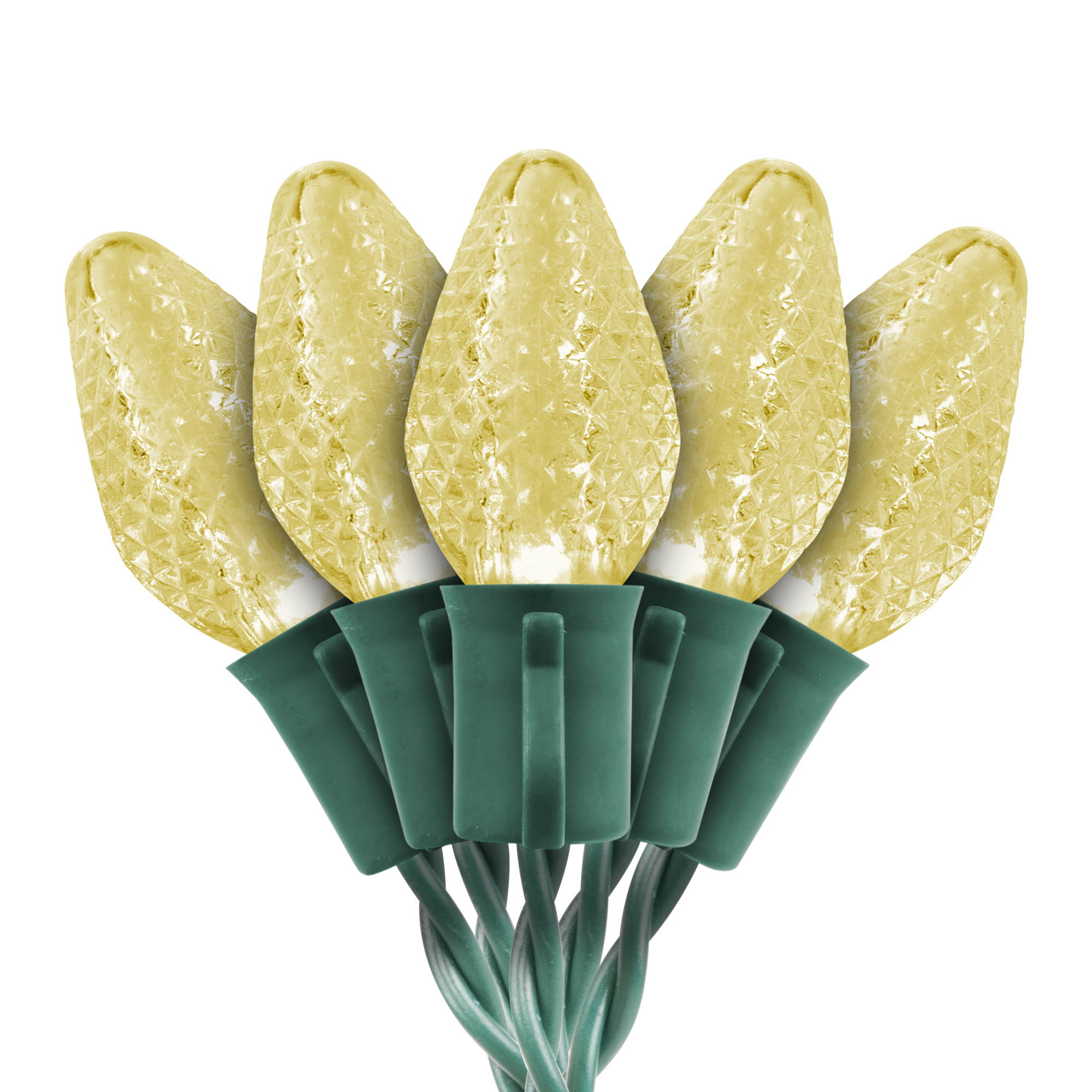 C7 Lights
The C7 Christmas lights are a popular choice for the old school holiday enthusiast. The smaller C7 bulb is less than 2 inches (1.29") tall, has a diameter of less than 1 inch (.86")and is noticeably larger than C6 Christmas lights. The C7 (E12 base) replacement bulbs utilize 3 high power LEDs per bulb. The C7 and C9 have a light or lumen output which is comparable to incandescent. The C7 replacement bulbs are a great choice for those looking to replace their inefficient incandescent C7 Christmas lights. The C7 retrofit bulbs use only .96 watts per bulb and will last for 50,000 hours or more. Our retrofit replacement bulbs can be used with any standard C7 or C9 socket wire. C7 bulbs are great for large outdoor trees, building outlines, roof lines, and eaves.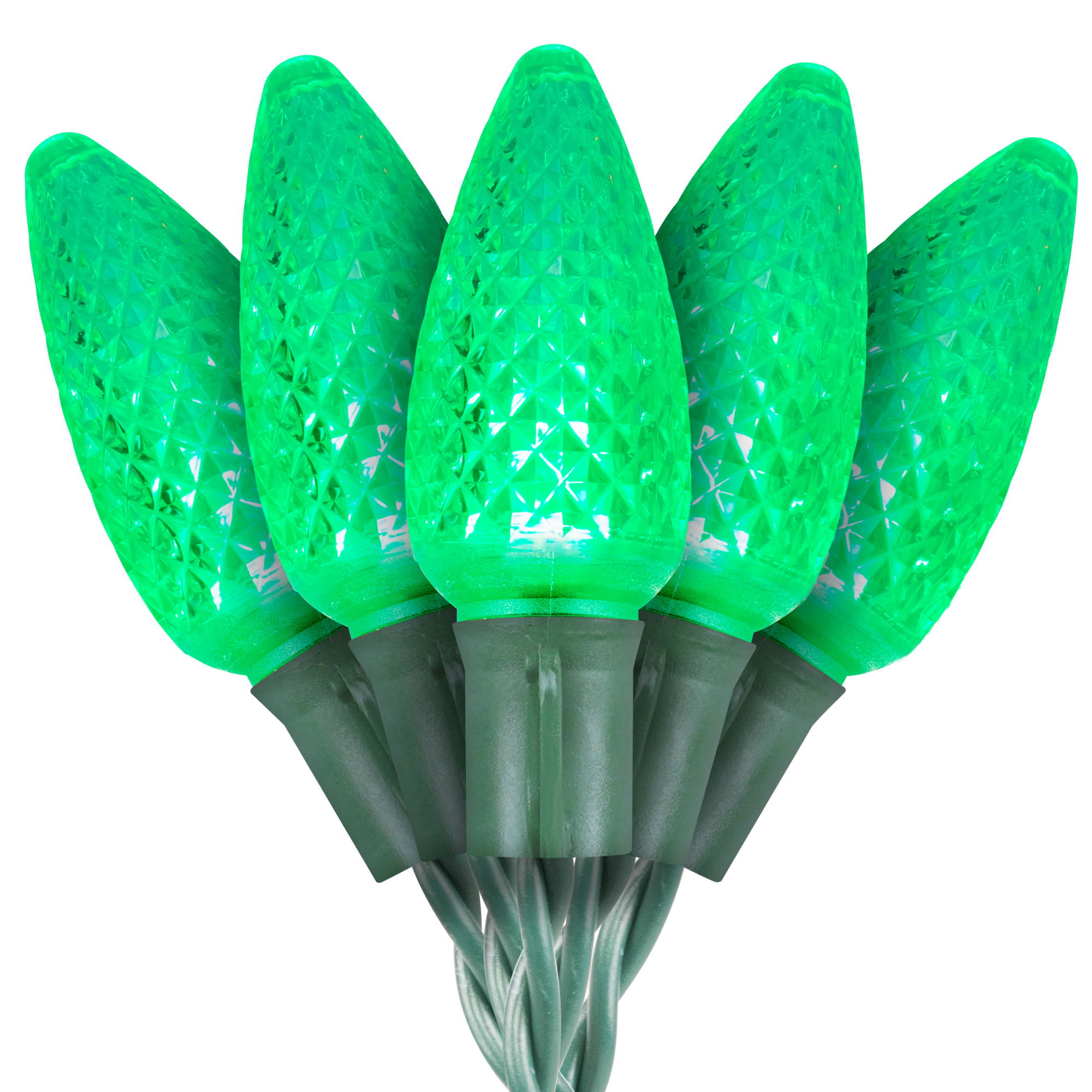 C9 Lights
Replacing your old incandescent C9s with LED retrofit bulbs will give you instant savings. Our C9 retrofit bulbs consume only .96 watts per bulb which is 99% less than incandscent. Using 5 high powered LEDs, they are similar in brightness to incandescent C9 lamps so you don't have to worry about dealing with cheap under-powered replacements. Upgrading your C9 bulbs to LED with these is easy: simply remove your old bulbs and screw these into your existing socket wire.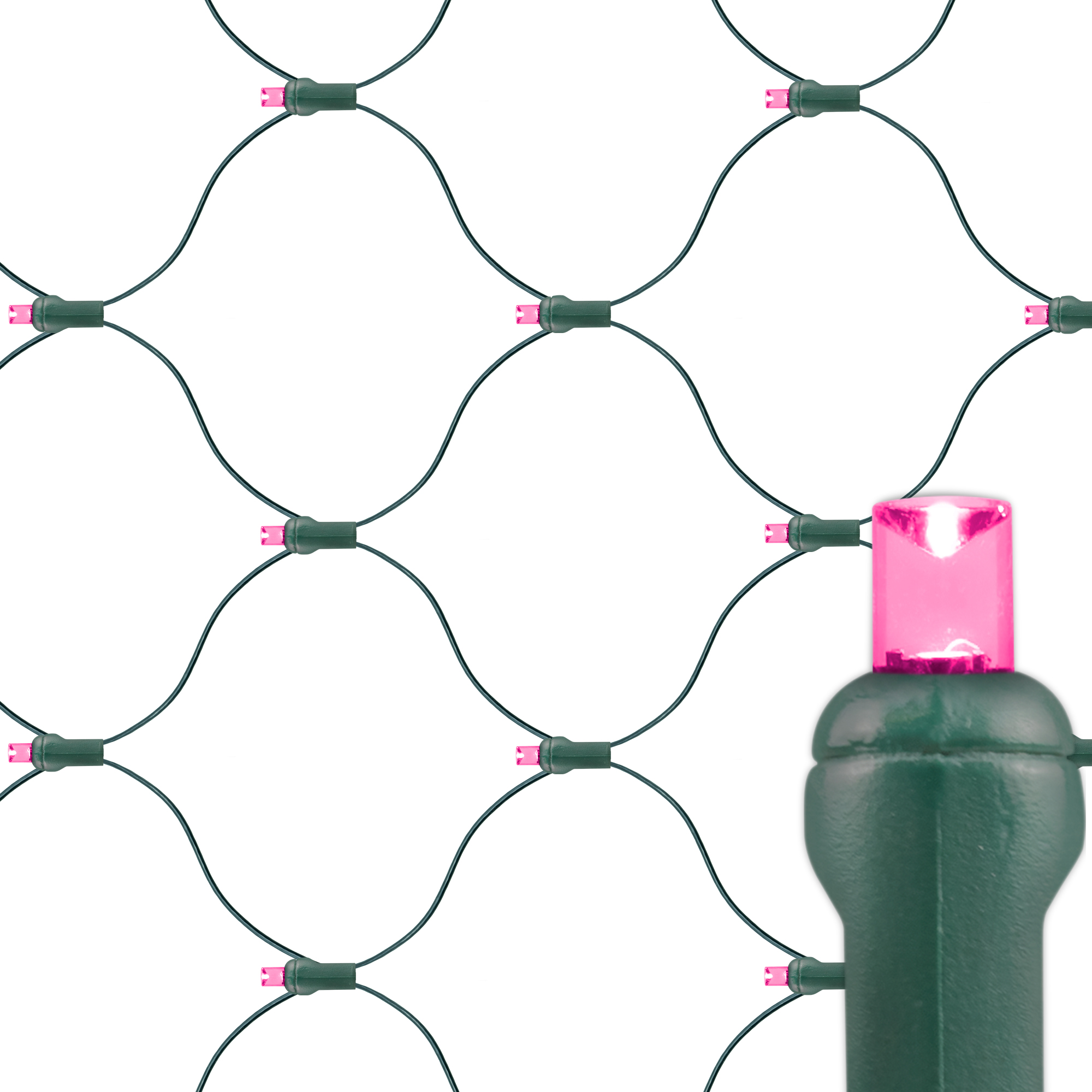 Net Lights
Looking for an easy way to decorate bushes or shrubs for the holidays? LED net lights are the best and easiest type of Christmas lights for bushes. It is a great way to decorate bushes and create a uniform light pattern. Net lights, as the name indicates, are standard Christmas lights configured in a net-like pattern so they can easily be draped over bushes and shrubs. Some serious decorators also use our net lights to cover their roofs completely with lights. We've also had customers install net lights over their entire lawns which created an amazing effect. HolidayLEDs.com offers net lights in a wide variety of colors including traditional warm white, multi color and several standard solid colors.
Our LED net lights utilize the G12 or 5MM wide-angle style LED lights which are bright and durable.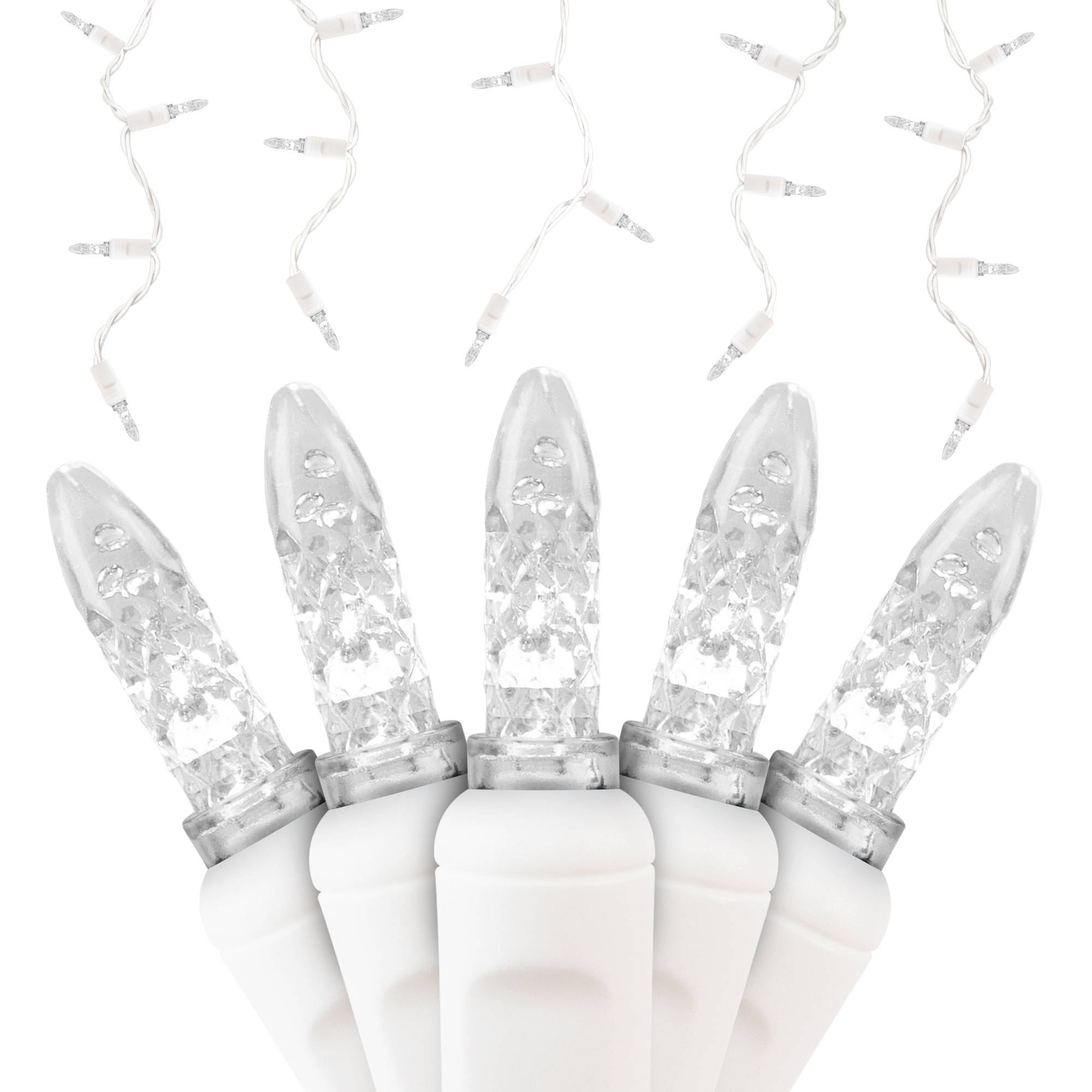 Icicle Lights
Icicle lights are a classic holiday decorating tool. Icicle style Christmas lights are most commonly used to decorate roof lines or eaves of homes to create the effect of dandling icicles. Our LED icicle lights have a horizontal main wire with icicle "drops" of varying lengths to create the traditional icicle effect. While traditional icicle lights were only available in standard clear or white, HolidayLEDs.com offers icicle lights in almost every color along with several color combination sets. In addition to their traditional use, icicle lights are also great for decoration decks, gazebos, atriums and dining halls or convention centers.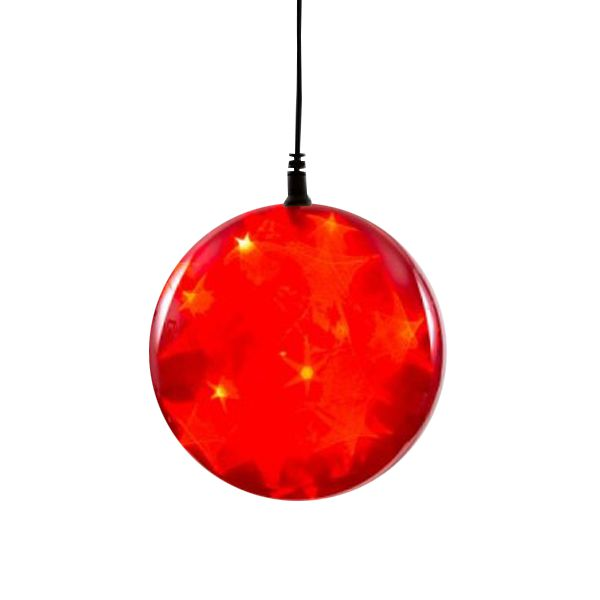 Battery Christmas Lights
LED technology has made battery operated Christmas lights a viable option. Previous incandescent versions of battery Christmas lights would only last a few hours. HolidayLEDs.com LED battery Christmas lights can last several days. Battery Christmas lights are great for decorating wreaths, centerpieces, mantels or other holiday decor where AC power is not available or desired. Our slim wire battery operated Christmas light sets utilize a thin floral type wire that can be bent and wrapped around flower bouquets or plants. Our customers have also use our battery operated Xmas lights on costumes for Halloween or other special events such as Raves or other events such as Burning Man. Most of our battery light sets are available in green or white wire and many sets are suitable for indoor or outdoor use.