Wholesale Christmas Lights
Are you a Municipality, Commercial Venue, Contractor/Installer, or just a Homeowner who does it up big for the Holidays?
We have designed our site to be a one stop shop to include the wholesale and retail into one product. Find the product by sku or by category and shop wholesale savings today. Included below are popular categories to select from, otherwise shop away on our new site today.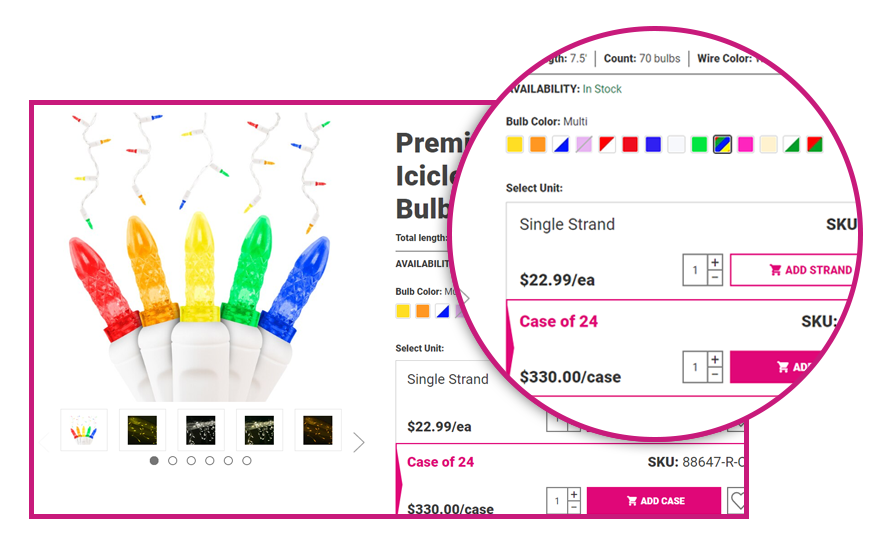 Check out our Popular Categories & Accessories Below!
Whether you are adding to an existing display, switching from Incandescent to LED this year, or you are starting a new display, there are many reasons to use LED lights:
Energy Savings: Switching to or Using LED lights instead of Incandescent, can reduce your power consumption by 90%; which is not only environmentally conscious, it will also save you money. This lower power use also allows you to use more lights, which means bigger and better displays.
Ease of Install: Because LEDs use less energy, you can connect more sets end-to-end; which will speed up install time, reduce the need for multiple outlets, and will save you money on extension cords/triple taps/timers.
Durability: All of our LEDs are made of a durable acrylic plastic, and have 1-Piece molded bulb construction, making them virtually unbreakable and water-tight/moisture resistant. LEDs are also rated for up to 50,000 hours of use, instead of 2,000 hours with an incandescent bulb, which means they can be reused year after year.
Safety: Unlike Incandescent lights, LEDs convert most of their energy to light, instead of heat. This means they stay cool to the touch, no matter how long they are lit, making them a safe option for indoor or outdoor use.
Decorating buildings and public spaces can transform these areas; drawing in visitors and patrons, as well as attracting attention to properties, local points of interest, and events. The brilliant jewel-like colors offered in LED, create dazzling effects, and offer options to match any theme or color scheme. Create spectacular displays, with Cost Effective, Energy Saving, Professional Grade LED Lights from Holiday LEDs.