Christmas Lights Recycling Program,
A Green Solution to Replacing
Old Christmas Lights

Each holiday season, a flurry of Christmas and lighting enthusiasts work tirelessly to bring truly magical displays to life. Countless strings and LED lights are purchased nationwide and used to illuminate remarkable designs. But whether you're decorating a large-scale holiday spectacle or home decorations for the family to enjoy, all Christmas light users share one issue: your light strings cannot last forever. It's inevitable that not all of your Christmas lights will survive the season. General wear and tear, plus the often-finicky effects of dealing with Mother Nature, put added strain on your string lights, leaving you no choice but to toss some at the end of the season.
Unfortunately, Christmas light strings can be harmful to the environment when disposed of improperly. HolidayLEDs.com wants to help you recycle Christmas lights! Ship us your broken lights, and we'll take care of the rest! Plus- you'll get a coupon good for use at HolidayLEDs.com to help you replace the lights you sent in. You'll be stocked and ready to design and install the perfect dazzling display for the next holiday season, AND you'll have done your part to help the environment!
HOW DOES THE PROGRAM WORK?
It's simple! All you have to do is send us your old Christmas lights, and we'll send you a coupon good at HolidayLEDs.com. All coupons may only be redeemed once on a single order and may not be used with any other offer, discount, or coupon. Exclusions apply.
WHY RECYCLE CHRISTMAS LIGHTS?
Because we know you care about the environment as much as we do! Since most electronic products, like Christmas lights, are not bio-degradable, they will not decompose into the earth's soil. These products can sit in landfills for hundreds of years and pose a potential threat to animals that can get tangled in the strands. This is an easy way to do your part to look after the earth.
THE DO'S & DON'TS OF SENDING IN YOUR CHRISTMAS LIGHTS
(In short- all you need to do is box up your lights in the smallest box and send them to us in the cheapest and slowest way!)
Important Update to Our Recycling Program:
Due to local recycling changes we can no longer accept greenery, rope lights, loose or broken bulbs. We can only recycle string lights. All other items will be thrown away.

DO NOT-
Include any packing material or anything other than the lights themselves
Send the lights in outer packaging such as retail boxes
Include any apparatus used to wind up or store the lights
Use any size box that is larger than what is needed to accommodate the lights
Put your light sets in plastic bags or any other interior packaging
DO-
Use cardboard boxes or another packaging that can easily be recycled
Coordinate with your friends, neighbors, co-workers, social groups, church groups, or other organizations, when possible, to collect lights and send in one bulk shipment (This reduces shipping costs for everyone and reduces the environmental impact of shipping!)
Compact your light sets into the smallest space possible
You can send your lights via any shipping method you like. However, there is no reason to send them express. We would recommend that you send them by the least expensive method available.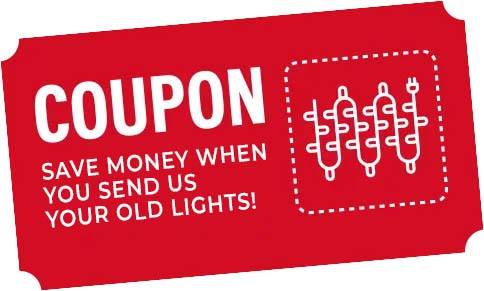 CAN I SEND CHRISTMAS LIGHTS TO YOU ANY TIME?
Yes! The Christmas Light Recycling Program is available year-round- Winter, Spring, Summer, or Fall! (If you are looking at your lights in the Fall and want to recycle the old ones, browse our Christmas string light options for some inspiration on using your coupon!)
OK-I'VE SENT IN MY LIGHTS. WHAT HAPPENS NEXT?
When we receive your lights for recycling, we will start by recycling the box before the Christmas light recycling can begin! The lights will then be processed, and any material that cannot be recycled (i.e., loose bulbs) is discarded. Once we have collected a substantial number of Christmas light sets, we take them to a 3rd party recycling facility that puts the lights through a commercial shredder, chopping the light into tiny pieces. Those pieces are then further processed, sorted into the various components that make up the lights (PVC, glass, copper), and transported to a region center for further processing.
Lights Should be Shipped To:
Send your lights via USPS, FedEx, or UPS Ground to:
HOLIDAY LEDS RECYCLING
W227N6225 SUSSEX ROAD, DOOR #12
SUSSEX, WI 53089
*Drop Offs are now accepted at the above location, Monday –Friday from 8-4 pm.
Please drop next to the Holiday Lighting Door 12
Once you have packed up and shipped us your lights, please complete our Christmas light recycling form, and we will email you your coupon as soon as we confirm shipment!