Christmas Light Recycling Program
How does the program work?
It's easy to participate — all you have to do is send us your old Christmas lights for recycling and we'll send you a coupon good at HolidayLEDs.com. All coupons may only be redeemed once on a single order and may not be used with any other offer, discount or coupon. Exclusions apply
WHY RECYCLE MY CHRISTMAS LIGHTS?
Because you care about the environment. After the Christmas season is over many people realize their lights are not fully functional and toss them in the garbage. Most electronic products like Christmas lights are not bio-degradable and will not decompose into the earth's soil. These products take hundreds of years to begin to break down and are dangerous to animals as they get tangled in the strands. If you want to keep your lights from going to a landfill and do your part to look after the earth, recycling your lights is a great way to do it.
HOW SHOULD I PACKAGE & SHIP THE LIGHTS?
Box up your lights in the smallest box and send them to us the cheapest and slowest way!

Please DO NOT:
Include any packing material or anything other than the lights themselves

Send the lights in outer packaging such as retail boxes

Include any apparatus used to wind up or store the lights

Use any size box that is larger than what is needed to accommodate the lights.

Put your light sets in plastic bags or any other interior packaging.
Please DO:
Use cardboard boxes or other packaging that can easily be recycled.

Coordinate with your friends, neighbors, co-works, social groups, church groups, or other organizations when possible to collect lights and send in one bulk shipment (this reduces shipping costs for everyone and reduces environmental impact of shipping.)

Compact your light sets into the smallest space possible.

You can send your lights via any shipping method you like. However, there is no reason to send them ex

p

ress. We would recommend that you send them by the least expensive method available.
CAN I SEND CHRISTMAS LIGHTS TO YOU ANY TIME?
Yes! The Christmas Light Recycling Program is available all year. You may send your lights to the address below, anytime - Winter, Spring, Summer, of Fall. If you are looking at your lights in the Fall and want to recycle the old and buy new lights, check out a few styles and varieties we offer:
How do I get my coupon?
Once you have packed up and shipped us your lights please complete our Christmas light recycling form and we will email you your coupon as soon as we confirm shipment.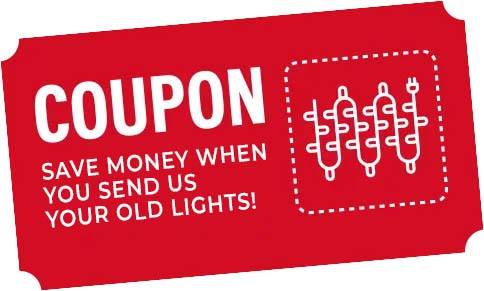 WHAT DO WE DO WITH THE LIGHTS YOU ASK?
When we receive your lights for recycling, we will remove them from the package and recycle the box. The lights will be processed and any material that cannot be recycled (i.e. loose bulbs) is discarded. Once we have collected a substantial number of Christmas light sets we take them to a 3rd party recycling facility. The recycling company puts the lights through a commercial shredder, which chops the lights up into little pieces. The pieces are then further processed and sorted into the various components that make up the lights (pvc, glass, copper.) The materials are separated and transported to a region center for further processing. In some cases, the pvc cannot be recycled.
Lights Should be Shipped To:
Send your lights via USPS, FedEx, or UPS Ground to:
HOLIDAY LEDS RECYCLING
W227N6225 SUSSEX ROAD, DOOR #12
SUSSEX, WI 53089
Drop Offs are now accepted at the above location, Monday – Friday from 8-4 pm. Please drop next to the Holiday Lighting door 12